Request for Quotes: Grant School District 3 Storage Facility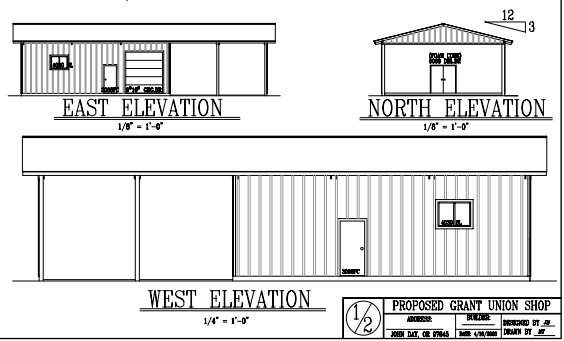 ---
BACKGROUND:
Grant School District 3 operates a combined Junior/Senior High School located in John Day, OR. The District intends to construct a new 60' x 30' (1,800 sf) storage facility west of the school building within the back lot. Building plan includes three interconnected areas: an open garage (23' x 30'); an enclosed garage (11' x 29'), and an interior work area (23' x 29').
SCOPE:
District is soliciting competitive quotes from licensed and qualified contractors to provide labor, equipment, materials, and related planning and construction services necessary construct the foundation, framing, and roof for District's storage building. District is requesting quotes for two components of the facility the following work:
Schedule 1: Framing and Roof. Framing plan consists of 2"x6" skirting, 6" x 6" pressure treated posts, 6" x 12" D.F. Headers, and R-21 BATT. Insulation. Roof is metal roofing with 3/12 pitch with 17' 9" peak height. Doors, windows, and garage door(s) to be included and installed by Contractor.
Schedule 2: Foundation. Monolithic pour of four(4)-in. reinforced concrete slab over 6 mil. Poly V.B. over R-10 rigid insulation packed with 3/4-in. minus gravel fill enclosed garage and interior work area. Two floor drains. Gravel floor for open garage area, as shown in Floor Plan and Foundation Plan.

Proposers may submit a bid for either Schedule 1 or Schedule 2, or submit a bid for both schedules, but the cost for each schedule must be identified separately in the proposal response.
DUE DATE:
District must receive quotes on or before September 13, 2023 at 4:00 p.m.
See further details on District Projects page.